A Gift From God...
"The Terri Shiavo case is a gift from God". That's what the House Majority Leader, Tom Delay, said in a recorded speech just a few days ago. According to Robert Novak, a Neo-Con journalist, analysts at the RNC sent out a warning this week to the House of Representatives that the GOP is in danger of losing 25 seats in the 2006 election. The Schiavo case "is a great political issue" for Republicans, Republican Senators were told in an unsigned memo this weekend.

I wonder if Terri's Mother thinks this is a "gift from God"?


This isn't about Terri Schiavo. Its about rallying the base of poor Christian voters who regularly vote Republican... even against their own best interest! They haven't received their "thank you" yet, unless you count the sweeping cuts in the budget and tougher treatment for the folks who file for bankruptcy! The GOP is hoping that those voters will forget about all that, and they will be able to hold on to those 25 seats. It's ironic, actually... polls show that two-thirds of people who consider themselves "Evangelical Christian" (the very people they are trying to fool!) believe the Government does not have the right to intervene in this very personal matter. Maybe they're a little smarter than the GOP thinks!

I wonder if Terri's Father thinks this is a "gift from God"?



This isn't about Terri Schiavo. This calculated, manipulative move is about distracting Americans from lawlessness and murder in Iraq and Afghanistan. It's about changing the subject from a cruel and killing budget that favors the rich, and just possibly, about obscuring the news that, according to a new National Defense Strategy, the Pentagon has made "pre-emptive strikes", like those used in Iraq, a permanent part of the nation's military policy.

I wonder if Terri's Brother thinks this is a "gift from God"?



This isn't about Terri Schiavo. The President rushed back to Washington (from vacation) to sign this bill set forth by Congress, because he believes in a "culture of life". Keep in mind, a baby was just taken off life support this past week, against the mother's wishes, because of a bill HE signed as Governor. If Bush really believed human life is sacred, he would never have pushed for a war(s) that has resulted in the loss of hundreds of thousands of innocent Iraqi lives, because of the off-chance that the future might bring another terror attack, somewhere, sometime, that might kill Americans. If Bush really thought that human life was sacred, he wouldn't be traveling the country trying to scare people out of their Social Security, with a plan of privitization, that most economist agree will only benefit Wall Street. Judging by the latest numbers (some where around 65%), most American's agree with the economist.

I wonder if Terri's Husband thinks this is a "gift from God"?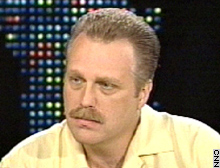 This isn't about Terri Shiavo. The GOP knew that the chances of the numerous, previous rulings being over-turned was very weak. Mark my words, after Terri has passed-away, they will come out and say that this is a prime example of why "we" need to appoint the "right" Judges to the bench. So that another family will never have to endure this pain again.

For the GOP, it isn't about Terri Schiavo's life at all; it's about the life of the GOP.